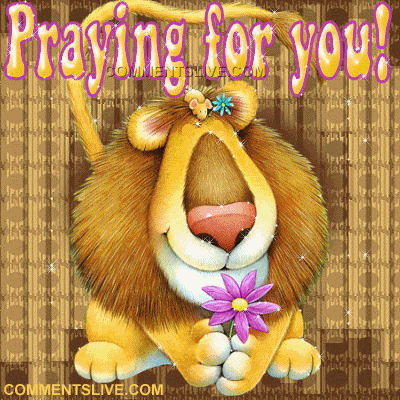 Myspace Comments
@
CommentsLive.com

Please share your prayer requests with us. Don't forget to come back and share your praise reports too!
Prayer Requests: As of January 13, 2009
YaYa
- 1/13/09 - Twin grandbabies came home from hosptial short time ago and Luke is back in the hospital with
pyloric stenosis
and having surgery to correct this. Please pray for babies and parents during this healing and growing stronger time...
Jennifer
- 1/13/09 - Has special prayer requests posted on her blog please see
her post
Jill
- 1/13/09 - bringing their adopted son from Ethopia home... and a special doctor's appt for him as well.
Rachel Ann
- 1/13/09 = Miscarriage.....
Tricia
- 1/13/07 Is having some outpatient surgery in the morning and would appreciate your prayers for a successful surgery and quick, uneventful recovery. Prayers for her husband would also be appreciated, as he takes care of her, the boys, his work, the house, and whatever else comes up!She says "I have many blogging friends who are powerful prayer warriors so I wanted to ask you to pray, thanks so much!"
Kiki
- 1/1/06 Daughter Rachel has a genetic disorder. Pediatric Neurosurgeon will be her doctor. Pray for wisdom for the doctors, the right treatment, and complete healing. Rachel is suffering with a great deal of headaches with this disorder that Kiki cannot pronounce.
Please visit Kiki's blog for more info.
Michele
- 12/30 - Head and chest cold.
Still sick as of 1/6/09
Jennifer
1/6/ 09 Mother broke her hip a few weeks ago. Continue to pray for healing. Her uncle Richard passed away before Christmas. Pray for comfort for the family.
Denise
said... Continue to pray for her health, husband job sitituation, finances, church home.
Lady of Value - 11/19 Please pray for our

church

. We are in

need of a senior Pastor and a youth pastor.

Also pray for the deacons that they would be

godly men in leadership

. Also pray for me as a

parent of a teen and preteen,

things are kinda rough.
1/6/09 - starting a new ladies bible study.
Cathryn 11/19 I have an

unspoken

prayer request that I would really appreciate you all praying about. Lord Bless, Cathy in Kentucky

Michele Williams 1/6/09 My step father, Chris,
85 this month, is failing fast in health. He is in kidney failure and may be in congestive heart failure. My sister, Marsha, is with them now to see first hand what is going on and what can or cannot be done. Pray for peace, comfort, guidance, wisdome, and mercy.
MJ
11/20 Please pray for my
beautiful step daughter
. She is trying to have a baby and nothing is working. Her heart is so wounded right now.
11/22 Please pray for
Spencer, Amy Wyatt's son
who suffers greatly with Epillepsy. Visit her at:
http://signsmiraclesandwonders.blogspot.com/
11/22 Continue to pray for Lisa Copen of Rest Ministries and a dear friend is home now and on IV antibotics.Pray for her wonderful volunteer ministry to the chronically ill as well. http://www.restministries.org/
Missy 11/29 Please pray for Stacy's (my husband) job situation.
12/3 Jennifer has a "prodical" son that she would like prayers for. She is concerned for his soul.
12/3 A dear Christian woman would like prayer for her family. She recently found out that her husband (who is a church leader) is addicted to porn. Pray that he will get the much needed help and break free of this bondage. Pray for her and her daughters as they are devestated. Pray for the husband's healing, the marriage and family.
MJ 12/4 I have an unspoken prayers request ~ I would appreciate any prayers offered. I have been praying for all the requests. God Bless You All.
Sharon 12/10 Please pray for my Mom, she is hurting so bad right now, Last year at christmas my brother was in a terrible accident, and it's very hard. My husband has asked me if I am depressed, and I have found that I am alittle, so alittle prayer for me too would be great
12/10 Edie -Please pray for me concerning direction, decisions, and relationships. God knows the details of each.
12/11 Lisa -Please pray for my mom, she will be having a cat scan monday for her stomach. She is in a lot of pain, has swelling in her abdomen and no appetite. My grandmother died of stomach cancer at 82, these were her symptoms, my mom is 76--I am very concerned.
12/29/08 - Lisa Update on parents click here to her prayer request
12/27 - Jennifer -By His Grace - Her papaw passed away to glory. She and her family are on their way to Florida for the funeral. She asks that she can be a witness to family and friends who do not know the Lord.
Praise Reports:
Sharon Brumfield 11/20 prayer We moved to this area back in July of this year because we believe that God told us to come here.My husband is in need of a job...we have been praying and he has been looking. WOuld you please pray for that for us? Praise - 12/9 Got a job!
Jennifer = Praise the Lord... Ashlyn is doing much better!
Jennifer - Safe in the Arms of His Savior! - Baby Gabe update Keep praying for his parents as they grieve for the loss of their precious baby boy!