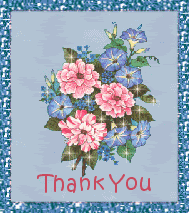 Thank You Glitter Pictures
Jim and I would like to express our deepest appreciation for all of your heartfelt prayers, well wishes, and sincere sympathy concerning the passing of Jim's mother Saturday, December 20, 2008. God has truly been faithful and continues to minister to our family. We are so thankful that Lydia knew the Lord and we will see her again one day along with other family members and loved ones gone on before.
God Bless You,
Jim & Michele
Phil. 1:3 "Every time I think of you, I give thanks to my God"