My mom at my sister's in 2005 having tea with her grandchildren and great-grandchildren
Just
in case
you cannot read the photo, Three Generations in 2000 - My daughter Heather, Myself, and My mom, Eleanore having afternoon tea at Gooseberries Tea Room - Phoenix, AZ
I am going to post a precious funny post I wrote last year about my mother. As most of you know, she just lost her husband of 31 years a couple of days ago. My step father cherished my mother. She is a beautiful 86 year old mom of 3 plus a step daughter, grandmother of 8 and great-grandmother of 15! Yes, we keep her in the poor house!
LOL
... As you can probably imagine, she is going through a vast amount of emotions. She has good moments and bad moments. I will be with her in just a few weeks and I can't wait! It's been 3 years since I have seen my mother. I will miss seeing Chris though... I truly loved the man!
So in honor of my mother for Mother's day,I bring you some light-hearted humor about my mother and some precious pictures too.
******************************************
Ice Cream Anyone?
I wonder if this is the reason my mother prefers "snail" mail?
My mother is a character. At 85 years young she is in better shape than her children! At least this daughter! She has never had surgery, no "major" illnesses, still drives, and just this summer she finally gave up mowing the lawn (with a push mower)! She won't have a computer so of course no email. It's a shame her children didn't inherit her love for letter writing. So, since none of us write letters, and we can't email or blog her, we telephone our mother. Although for me it's always been to hear her voice. I have lived so far from home for over 32 years that I get home sick for my mothers voice. Although these days I do have to repeat myself several times, but that's okay, I am blessed...I still have a mother. The other day I called my mom. I let the phone ring 8 times and no answer, so I hung up. About ten minutes later my mom calls me and asks "did you just call me?" Knowing that she doesn't have caller ID I was a little puzzled that she would know it was me. She said, "I was thinking about calling you today as well." Great minds think alike. My mother proceeded to tell me why she didn't get to the phone on time. I love this! She was eating ice cream. It took her a bit to get up from her chair. Not wanting to let her ice cream melt she went to the freezer to put her bowl in. By the time she got to the phone I had already hung up. Now mind you, most people would answer the phone, then ask the other person to hold on a minute while they put their ice cream away...not my mom! Her first thought...protect my ice cream at all cost! We had a good laugh over this. Yes, we "
Doty
" women (my grandmother's maiden name) know what's important... our sweets!
+++++++++++++++++++++=
To add something to this post - My mother has never met a CHOCOLATE she doesn't like! She ALWAYS has chocolate in the house! She has told me that the last thing before she takes her last breathe we are to put a Hershey Kiss in her mouth! Mom also said that if she ever needs to blood transfusion - tell the doctor her blood type is CHOCOLATE!
LOL
!!
Yep... I love my mom!! Now you know where I get my love for chocolate and sense of humor!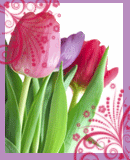 Click picture to go to Mother's Day Meme over at Angie's